FT63 Laboratory Process Chiller
The FT63 is a recirculating process chiller, providing a continuous supply of chilled liquid to serve as the cooling fluid when used with an Armfield miniature-scale processing unit. It is particularly suitable for use with an Armfield FT174XTS, FT174X and FT102X//LT sysems.
Description
The FT63 contains a reservoir of cooled fluid, which is pumped through the external process to be cooled (eg heat exchanger system).
The cooling fluid can be water or a mixture of glycol and water depending on the output temperature required. This fluid is  cooled by the integral refrigeration system. A high-pressure pump is used to pump the fluid through the process.  A bypass valve facility enables the fluid to be recirculated independently of the process conditions.
Compressor Reciprocating hermetically sealed compressor  with a refrigerant cooled motor. Evaporator Packaged coil type, made of copper tubes  and aluminium fins. Condenser Single air-cooled condenser manufactured from aluminium  fins mechanically bonded to refrigeration-grade copper tubes.  The condenser fan is of a low-noise axial type. Fan blades are  fully enclosed by a safety grill.
Technical Specifications
Cooling capacity
The cooling capacity of a chiller is dependent on its operating conditions, particularly the liquid temperature and concentration.
The FT63 has a typical cooling capacity of 2kW with an outlet temperature of 0°C, using a 20% glycol solution (typical FT174X application). For other applications please consult Armfield.
Refrigerant: R407C Freon
Max ambient temp: 32°C
Process pump
Head: 6 bar max
Flow rate: 4.8 m³/hr at 3.7 bar
Reservoir capacity: 25 litres
Features & Benefits
Low refrigerant charge
Low running costs
Easily cleaned and maintained
Continuously recirculating glycol solutions for cold chilled liquid temperatures
Temperature controller on chilled liquid outlet enables stable processing
High cooling capacity
Integral high capacity liquid pump
Mobile unit
Washable control panel
Stainless steel casing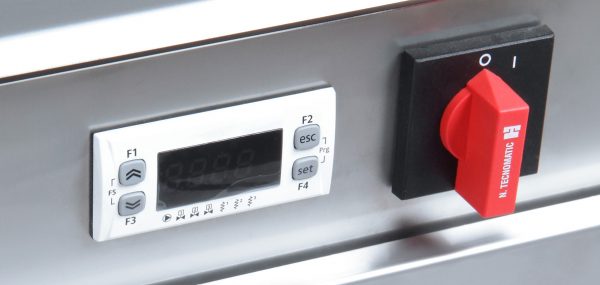 Electricity supply: Single phase (see ordering codes)
Packed and created shipping specifications
Volume: 0.7m³
Gross weight: 160Kg
Length: 0.80m
Width: 0.70m
Height: 0.97m
FT63SS-A: Laboratory Process Chiller 230V / 1ph / 50Hz / 15A
FT63SS-G: Laboratory Process Chiller 220V / 1ph / 60Hz / 16