F1-10- Hydraulics Bench
The F1-10 unit is a portable and self-contained service module providing a controlled flow of water to a range of optional accessories. It is supplied as standard with the Fluid Mechanics F1-aBASIC Software
Description
The F1-10 unit is a portable and self-contained service module providing a controlled flow of water to a range of optional accessories. It is supplied as standard with the Fluid Mechanics F1-aBASIC Software.
This mobile bench is constructed from lightweight corrosion-resistant plastic and incorporates an open channel with side channels to support the accessories on test. The hydraulics bench includes a volumetric measuring tank stepped to accommodate low or high flow rates and a stilling baffle to reduce turbulence. A remote sight tube with scale gives an instantaneous indication of water level.
The bench additionally includes a quick-release pipe connector situated in the benchtop enabling rapid exchange of accessories without the need for hand tools, a measuring cylinder for measurement of very small flow rates, stopwatch and a copy of Armfield's F1-aBASIC educational software.
The F1-10 hydraulics bench can be supplied with either a factory fitted electronic flow meter with digital display or an optional inline digital flow meter that can be added in line to the experiment on test at any time.
Technical Specifications
Circulating Pump:
Submersible
Max head: 8.3m H²O
Max flow: 80 litres/min (using volumetric tank)
Max flow: 100 litres/min (using appropriate accessory)
Motor rating: 0.25kW
Sump tank capacity: 250 litres
High flow volumetric tank: 40 litres
Low flow volumetric tank: 6 litres
Height of working surface: 1m above floor level
Features & Benefits
Armfield's F1-aBASIC software is now included as standard with either of the hydraulic benches. The Armfield software is a powerful manual data entry learning package which enhances the educational content and understanding of Armfield's F1 Fluid Mechanics accessories that utilise either of the F1-10 Hydraulics benches.
The software allows the user to manually input data from primary instrumentation and offers a powerful tool for displaying and processing the results.
Software additionally includes the electronic version of the manual for all the modules on test.
Some of the major features include:
Graphical Display – When several samples have been recorded, they can be viewed in graphical format. Powerful and flexible graph plotting tools are available in the software allowing the user full choice over what is displayed
Mimic Diagram – a pictorial representation of the equipment with fields to enter measurements from the equipment which displays any calculated variables directly in engineering units
Tabular Display – As the data is entered, it is stored in a spreadsheet format. The table also contains columns for the calculated values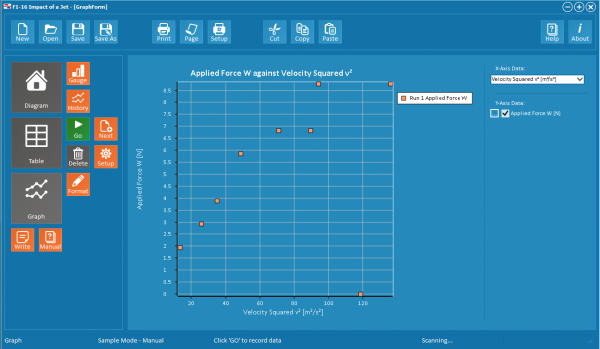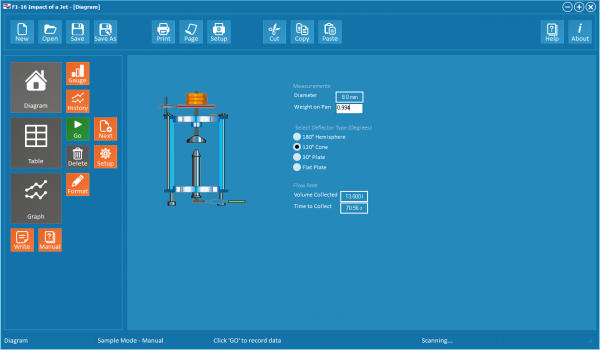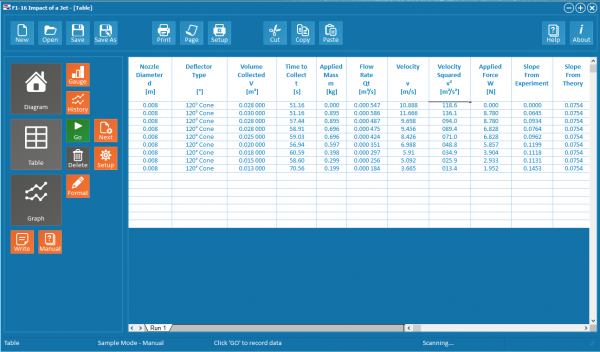 Electrical supply:
Basic Hydraulics Bench (with manometer):
F1-10-A 220-240V / 1ph / 50Hz @ 10 amp
F1-10-B 110-120V / 1ph / 60Hz @ 20 amp
F1-10-G 220V / 1ph / 60Hz @ 10 amp
Digital Hydraulics Bench (with digital flow meter & manometer):
F1-10-2-A 220-240V / 1ph / 50Hz @ 10 amp
F1-10-2-B 110-120V / 1ph / 60Hz @ 20 amp
F1-10-2-G 220V / 1ph / 60Hz @ 10 amp
F1-10-1 Digital Flow Meter for F1-10 Hydraulics Bench (attaches to water outlet and can be removed as necessary):
110-120V / 1ph / 60Hz @ 20 amp
Water: Fill with clean water. No permanent connection required.
PACKED AND CRATED SHIPPING SPECIFICATIONS
Volume: 1.5m³
Gross Weight: 160Kg
Length: 1.13m
Width: 0.73m
Height: 1.0m
Basic Hydraulics Bench:
F1-10-A 220-240V / 1ph / 50Hz @ 10 amp
F1-10-B 110-120V / 1ph / 60Hz @ 20 amp
F1-10-G 220V / 1ph / 60Hz @ 10 amp
Digital Hydraulics Bench (with digital flow meter):
F1-10-2-A 220-240V / 1ph / 50Hz @ 10 amp
F1-10-2-B 110-120V / 1ph / 60Hz @ 20 amp
F1-10-2-G 220V / 1ph / 60Hz @ 10 amp
F1-10-1 Digital Flow Meter for F1-10 Hydraulics Bench