Description
The CEU utilises the sugar inversion reaction (sucrose -> glucose + fructose) to study the performance of packed bed chemical and biological catalytic reactors.
A colorimetric assay is used to determine the degree of conversion using an optical sensor. Assays may be automated using optional flow injection analysis.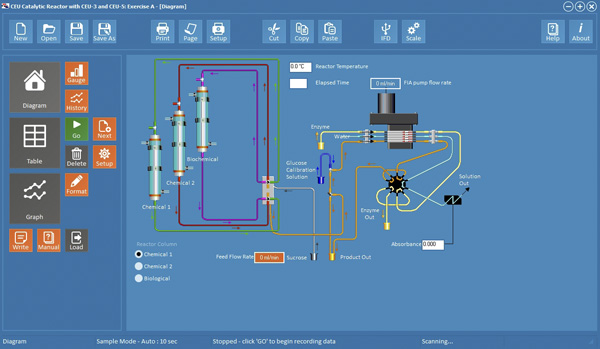 Technical Specifications
Features & Benefits
Understanding the principles of packed bed catalytic reactors
Mass balancing
Examination of steady and unsteady state catalysis
Comparison of chemical and biological (enzymic) catalysis
Flow characterisation in a packed bed
Understanding the principles of flow injection analysis (FIA)
A benchtop unit comprising a vacuum-formed ABS plastic plinth with integral electrical console on to which is mounted the packed bed reactor columns, feed pump, optical sensor and optional flow injection analysis (FIA) system
The unit is supplied as standard with two reactor columns for chemical catalysis
An optional third column can be added to the system for biological (enzymic) catalysis
A heated water supply to the column jackets enables automatic control of reaction temperature to a set point value
Feed flow rate 0-15 ml/min
The optional FIA pump can be adjusted to give flow rates up to 2.5 ml/min
All electrical circuits are fitted with appropriate protection devices
The console has two digital meters. The first, associated with the controller, shows the temperature of water supplied to the column jackets and the second shows the optical sensor reading which provides a measurement of product concentration. Corresponding signals are routed to the I/O port for connection to a PC
Electricity Requirements:
CEU-A: 220-240V / 1ph / 50Hz / 5A
CEU-B: 120V / 1ph / 60Hz / 10A
CEU-G: 220-240V / 1ph / 60Hz / 5A
Software:
Requires the user to have a PC running Windows 7 or above with a USB port.
Consumables:
500ml of 2M Hydrochloric acid
500ml of 2M Calcium chloride
3kg Amberlite
10g Glucose
38g Sucrose
1kg Liquid Glucose (oxidase)
250mg Invertase
30g of Sodium alginate
PACKED AND CRATED SHIPPING SPECIFICATIONS
Volume: 0.44m³
Gross Weight: 36kg
Length: 1.00m
Width: 0.50m
Height: 0.60m
CEU-A: 220-240V / 1ph / 50Hz / 10A
CEU-B: 120V / 1ph / 60Hz / 15A
CEU-G: 220-240V / 1ph / 60Hz / 10A