HT30X – Computer Controlled Heat Exchanger Service Unit
A range of small scale heat exchangers, designed to demonstrate the principles and techniques of indirect heat transfer between fluid streams.
Different heat exchanger types are mounted on a common bench-top service unit. Small scale versions of commonly used industrial heat exchangers are available (including plate, tubular and "shell and tube")for analysis and comparison.
The equipment is controlled either by a user supplied personal computer or an optional ACU screen.
20 users can connect to view the live readings within the local network. (Requires ArmBus-NetCan)
Full data logging, control and educational software is supplied with the equipment as standard.
Description
The HT30X is a service unit which controls the operation of a broad range of Armfield interchangeable small scale heat exchanger modules.
It provides controlled cold water flow, hot water direction can easily be reversed using software control, enabling co-current and counter-current investigations, and the required instrumentation for a series of in-depth investigations into heat exchanger performance. The individual heat exchangers can be quickly changed over, to enable comparisons between different types of heat exchanger to be made.
The HT30X requires a user supplied personal computer for the operator interface. The computer connects the HT30X using a USB interface, providing a simple and straightforward installation and set up procedure.
Once the appropriate heat exchanger has been installed and set up, all other functions can be performed under computer control. Appropriate measures have been implemented so that in the case of computer failure or communications breakdown, the system shuts itself down in a safe manner.
A wide selection of heat exchanger options are available for use with the HT30X. Ranging from simple exchangers to demonstrate co-current and counter-current flow, to reconfigurable systems with interim temperature measurements, capable of being used for in-depth heat exchanger analysis.
The heat exchangers are easily interchanged, with location studs and flexible interconnecting tubes with push connectors.
Technical Specifications
HT30X- Computer Controlled Heat Exchanger Service Unit
A lightweight bench top service unit, designed to accommodate a range of different small scale heat exchangers
Comprises hot water vessel, bi-directional hot water recirculation pump, cold water control system, computer interface and all necessary instrumentation
The hot water vessel is made from clear acrylic (for visibility) and includes a 2kW heater with thermostatic over-temperature cut-out and low water level detection
Hot water direction can easily be reversed using software enabling co-current and counter-current investigations over a wide range of computer controlled flow rates
The cold water system includes a manually adjustable pressure regulator and a software controlled flow control valve
Flow rates for both fluid streams in excess of 5L/min are achievable, but this may be restricted by some designs of heat exchanger (e.g. HT32X & HT37X Plate Heat Exchangers)
Up to twelve temperatures (K and T type thermocouples) can be monitored using the service unit. Operating range, 0-75°C, resolution 0.1°C
Two flow meters are included. Operating range 0.3 to 10 L/min, resolution 0.1 L/min, operating temperature 0-125°C
All data is available to a (user supplied) Windows PC, via a USB interface. This computer is also used to manually or automatically control the cold water flow rate, hot water temperature and flow rate, variable speed fan and stirrer
Full software for educational use is included as standard
Includes failsafe hardware facilities
Connects armBUS via LAN to PC.
20 Users can connect to view the live readings with in the local network
Master and view only options available at the time of setup when multiple users operating the machine
A comprehensive instruction manual is included
Features & Benefits
Small-scale, computer control bench top equipment
A common service unit avoids unnecessary cost duplication for control and instrumentation
Multiple accessories representative of industrial heat exchangers
Computer controlled, including reversing of one of the fluid streams for co-current and counter-current investigations
armBUS connection via USB
Full educational software with data logging, control, graph plotting, and detailed "Help"
Suitable for project work. The service bench provides facilities for evaluating in-house heat exchanger designs
Fail-safe hardware facilities for remote operation, via NetCan
20 users can connect to view the live readings within the local network. (Requires ArmBus-NetCan)
Full control or read only access available at the time of setup when multiple users are operating the machine
Educational software, including mimic diagrams, real-time control, data logging and graph plotting
Embedded software based PID control of hot and cold-water flow
Standalone operation via ACU Touch Screen option
Training exercises that are common to each of the heat exchangers when used with the HT30X:
Demonstration of indirect heating/cooling by transfer of heat from one fluid stream to another when separated by a solid wall
Energy balance determination (heat balance) and calculation of efficiencies by measuring the flow rates and temperature changes in the hot and cold fluid streams
Introduction to different types of heat exchanger and comparison
of the differences in operation and performance
Using the Logarithmic Mean Temperature Difference (LMTD) in heat transfer calculations
Definition and measurement of Overall Heat Transfer Coefficient (U)
Demonstration of the differences between counter-current and co-current operation, (not relevant for some HT34X configurations)
Demonstration of the transition from linear to turbulent flow
Effect of hot and cold fluid flow rate on the heat transfer coefficient
Effect of driving force (temperature differential) on the heat transfer coefficient
Investigation of heat loss and reduction in heat transfer coefficient due to fouling of the heat transfer surfaces (suitable student project using user induced fouling)
The service unit provides two fluid streams to the heat exchanger, a hot water stream and a cold water stream. The hot water stream is heated in a vessel fitted with an electric heater.
The heater is switched on and off by a solid state relay (SSR), which is under software control. A thermostat limits the maximum water temperature to 75°C for operator safety.
A centrifugal pump circulates water from the vessel, through the heat exchanger and back into the heater vessel. The pump speed is under software control, while the direction can easily be reversed as the hot water recirculation pump is bi-directional.
The cold water stream is generated from a mains water supply. The flow through the heat exchanger is adjusted by a variable flow valve, again under software control. A manually adjustable pressure regulator is used to minimise the effect of mains pressure fluctuations.
Conditioning circuits for up to 12 K-type thermo-couples are included, (the thermocouples themselves are supplied with the heat exchangers). The instrumentation includes flowmeters to measure the flow rates of the two fluid streams.
All electrical circuits located within the service module are protected by a residual current device (RCD) for operator safety. The base includes a drip tray in case of water leak or spillage.
Internal / external expansion for armBUS & sensors
External (easy access)
3x          Mixed IO port C2 is configurable to various sensor types
2x          Temperature ports T7&T8
1x          ABMC 1W port for expanding the number of PCBs connected to the 1-Wire system
2x          5-Way M12 ports  (for NET CAN or legacy armBUS Inline sensors)
Internal (requires mechanical body modification)
12x        Internal Digital Output ports (24V)
1x          Internal 0-5V Output port
1x          Internal 0-24V Output port
1x          Internal 0-5V Analogue input port (5V+ supply)
1x          Internal 5-way armBUS port
2x          Internal Hall counters (5V+ supply)
HT31X-Tubular Heat Exchanger
HT32X-Plate Heat Exchanger
HT33X-Shell & Tube Heat Exchanger
HT34X-Jacketed Vessel With Coil & Stirrer
HT35X-Cross Flow Heat Exchanger
HT36X-Extended Tubular Heat Exchanger
HT37X-Extended Reconfigurable Plate Heat Exchanger
ACU Screen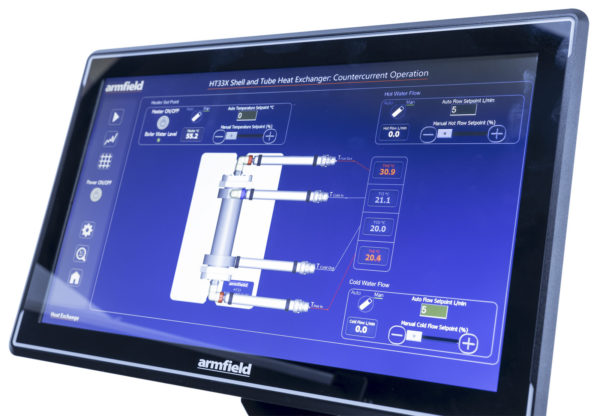 Single Phase Electrical supply:
HT30X-A: 230V, 50Hz, 6-16Amp
HT30X-B: 115V, 60Hz, 26-25Amp
Software requires a computer running Windows 7 or later with a USB port (computer not supplied by Armfield)
At least one heat exchanger module is required, additional heat exchangers are optional.
Cold water supply and drain: 5 Litres/minute at 1bar gauge (min)
Packed and crated shipping specifications
Volume:           0.33m³
Gross weight: 35kg
Length:  0.51m
Width:    0.95m
Height:   0.48m