FT28 Oil Extraction Screw Press
This oil extraction screw press has been developed to meet an increasing demand for a relatively unsophisticated small-capacity press, suitable for laboratory work.
It is designed to press seeds, nuts or other fine biomass to extract the oil. In addition a cake is formed which can be further purified down stream.
Description
Seed or ground meal is gravity-fed to the press from an integral feed hopper fitted with a manually operated shut-off slide. The thickness of the press cake may be varied. The press is driven at the discharge end through a single-reduction helical gearbox.
The power source is a 4kW, four-pole, three-phase electric motor.Typical throughput data for various seeds is shown in the table below.
Technical Specifications
FT28-E version:
Screw press, having barrel constructed from separate cast rings spaced apart by shims. 60mm diameter bore, 155mm drainage length with single-piece wormshaft driven at the discharge end through a single-reductionhelical gearbox.
Complete with feed hopper, manual feed chute, oil discharge chute and suitable base plate. Includes: one 4kW, four-pole motor, 1,450rpm with starter.
Oil extraction screw press suitable for use in the laboratory
Complete with feed hopper, manual feed chute and oil discharge
4kW electric motor
Suitable for use with a wide range of seeds or ground meals
Features & Benefits
Very simple controls
Robust design
Self-lubricating shaft in product contact areas
Removable panels for viewing process and safety
Quiet processing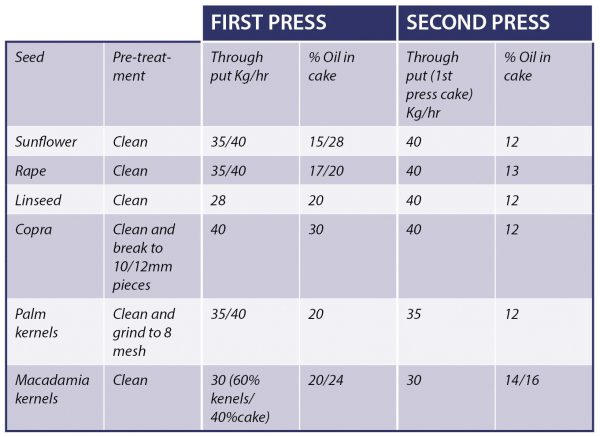 Electrical supply:
FT28-C: 415V / 3ph / 50Hz / 25 amp
FT28-D: 208V / 3ph / 60Hz / 25 amp
FT28-E: 380V / 3ph / 50Hz / 25 amp
FT28-F: 220-240V / 3ph / 60Hz / 25 amp
Packed and crated shipping specifications
Gross Weight: 320Kg
Volume: 1.10m3
Overall Dimensions
Height: 1.09m
Width: 0.99m
Depth: 1.20m
FT28-C
FT28-D
FT28-E
FT28-F