W2 MKII Sedimentation Studies Apparatus
The Armfield Sedimentation Studies Apparatus provides a facility for studying the basic physical processes involved in sedimentation.
Description
Sedimentation is a process used widely in the clarification of water and waste water. Particles settle from suspension in different ways, depending on the concentration of the suspension and the characteristics of the particles.
The simplest type of sedimentation is the settling of a dilute suspension of particles that have little or no tendency to flocculate. In these circumstances, the prediction of clarification rates and their scaleup to plant design is relatively straightforward.
For higher concentrations where inter-particle effects become significant and where agglomeration may take place, different regimes of settling rate occur, known as 'zone' settling (fig 1).
Information from batch tests for such systems forms a vital part of the search for the optimum design and operation of industrial sedimentation tanks.
fig2 Sedimentation curves from sample data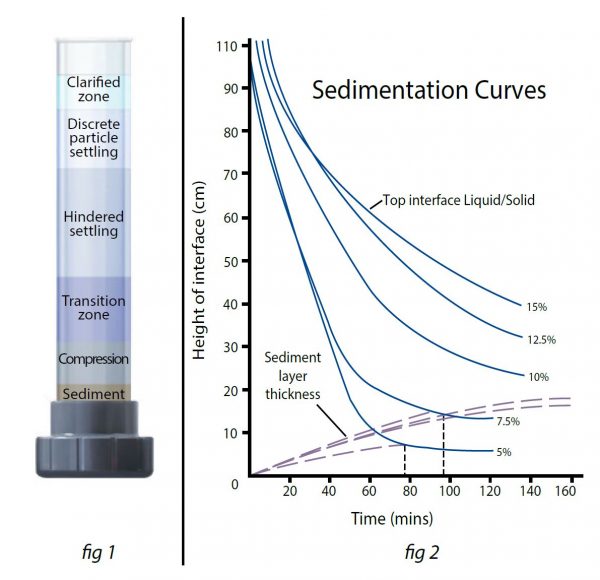 Technical Specifications
Tube length: 1m
Tube internal diameter: 51mm
Number of tubes: 5
Features & Benefits
Low-voltage operation via universal power supply for improved safety
LED backboard illumination
Pycnometer
Optional accessories
Triple beam balance with 0.1g sensitivity (ordering code: INST 059)
Electrical supply: supplied with a universal mains adapter suitable for 100-240V / 1ph / 50-60Hz
Water: Initial fill of 1.5L per tube
CaC03 or Chalk (not supplied)
Packed and crated shipping specifications
Volume: 0.8m³
Gross weight: 90Kg
Length: 0.70m
Width: 0.45m
Height: 1.30m
W2-MkII
INST 059 (optional)