FT80/81 Tall Form Spray Dryer
The Armfield Tall Form Spray Dryer has been specifically designed to enable small quantities of product to be processed. The functional properties of the powders produced are comparable to large-scale production dryer capabilities.
The FT80 can be quickly and easily configured as a Spray Chiller (FT81) capable of handling products such as bakery shortening mixes containing high melting point fats to be converted from liquid to powder.
It can perform operations such as powder spray drying, granulation and micro-encapsulation. Granules and powders of varying sizes can be created for rapid recovery from liquid streams.
Product Code:

FT80
Categories: Armfield Dairy, Armfield Educational Food Technology, Armfield Flavours and Fragrances, Armfield Ingredients, FT Series - Educational Food Technology, FT80/FT81 Tall Form Spray Dryer and Chiller, IFT Industrial Food Technology
Tags: bag filter, Data Logging, drying, electric dryer, encapsulation, fluid bed, FT80, FT81, granulation, granulator, micro-encapsulation', microencapsulation, nozzle, powders, Spray Chiller, Tall Form Spray Dryer
Description
The Armfield FT80 Tall Form Spray Dryer and FT81 Tall Form Spray Chiller have been purpose designed to enable laboratory quantities of products to be processed.
Despite the size of the equipment, the powders produced will be comparable to large-scale production dryer capability. Both systems offer unparalleled flexibility with separate, individually controlled inlet and outlet fans, together with variable nozzle positions and selection of co- or counter-current flow configurations.
This flexibility is enhanced by an unsurpassed range of options, purpose-designed for laboratory and research use. With the appropriate accessories it is possible to change from spray-drying to spray-chilling configurations in a matter of minutes, thus adding further unique experimental capability.
Co-current spray-drying configuration
The liquid to be dried is pumped to the top of the drying chamber by a variable-speed progressing cavity pump, which provides a very smooth flow and constant flow rate.
It is atomised by a two-fluid nozzle and enters the drying chamber as a fine droplet dispersion. Hot air is blown into the chamber, on to the droplets causing flash evaporation of the surface moisture. The bound moisture in the particles is evaporated in the time that they fall to the discharge point at the base of the cone (the residence time). In this configuration the particle temperature will never exceed the wet bulb temperature of the exhaust air.
A variable-speed centrifugal fan provides control over the inlet air flow and a steady inlet temperature is achieved by using a three-term controller in conjunction with an electric heater. A second variable speed fan draws air from the chamber through a cyclone separator. This 'push-pull' fan system provides flexibility to operate the chamber at variable pressures with variable residence times. Two powder collection points are provided, one at the bottom of the main chamber, and one on the cyclone separator. This enables particles of different sizes to be collected simultaneously and/or separately.
Exhaust-air relative humidity can be measured and controlled so as to enable the system to run at the required RH level. The nozzle is an external-mix two-fluid atomising nozzle. Compressed air is directed onto the liquid stream as it leaves the nozzle body and immediately atomises it. With this type of nozzle the orifice is larger than a single fluid type, and so it is possible to atomise more viscous products and even products containing suspended solids.
Technical Specifications
General
Liquid feed:  2-7 l/hr from variable-speed progressive cavity pump
Air flow:  Up to 30scfm, using variable-speed fans in 'push-pull' configuration
Chamber residence times:  Variable up to 9 seconds
Powder collection points:  Separate chamber and cyclone discharge points
Atomisation nozzles:  2-fluid type
Spray drying
Electric air heater: 4.5kW
Drying air temperature: 50-250˚C
Evaporation rates: 1.5-3 l/hr
Typical particle size range: 20-120 microns
Spray chilling
Air temperature:  2˚C minimum
(Note: not all parameters are necessarily achievable simultaneously)
Features & Benefits
No clogging, no need for de-blocking devices
Co-current flow for drying heat sensitive products
Counter-current flow maximises chamber residence time for non-heat sensitive products
Relative humidity displayed
Residence times in the drying cylinder variable up to 9 seconds
Easy connections to electrical and compressed air utilities
Data recording to computer for rapid evaluation and comparison
Accessory sets are available to quickly change from drying to spray chilling
Available as a Spray Dryer (FT80) or as a Spray Chiller (FT81)
Drying air temperature up to 250°C
Maximum flow rate up to 7 l/hr
Maximum evaporation rate of 3 l/hr
Tall form chamber straight side to diameter ratio of 3:1, conical discharge section
Advanced two-fluid nozzle atomisation system
Supplied with optional nozzle configurations for counter- and co-current atomising
Individual inlet and exhaust fans with variable-speed control
Bag filter and trace heating options
Flexible controls and full instrumentation provided in the IP65 control console
Easily dismantled for inspection and cleaning purposes
Compact, mobile design
Data logging facility for all key operating parameters
Powder discharges from two points, chamber and cyclone
Low noise levels
Control and measurement of relative humidity
Spark arrester on input and enhanced safety extraction fan
Counter-current spray-drying configuration
The FT80 Tall Form Spray Dryer is supplied as standard with two nozzles and nozzle hoses, one for co-current and one for counter-current. In counter-current configuration the nozzle is positioned at the bottom of the chamber and sprayed upward into the flow of hot air.
FT81 process line
FT81 Tall Form Spray chiller operates in conjunction with FT63 laboratory chiller. This unit uses counter current spray to chill the liquid particles for an extended residence time.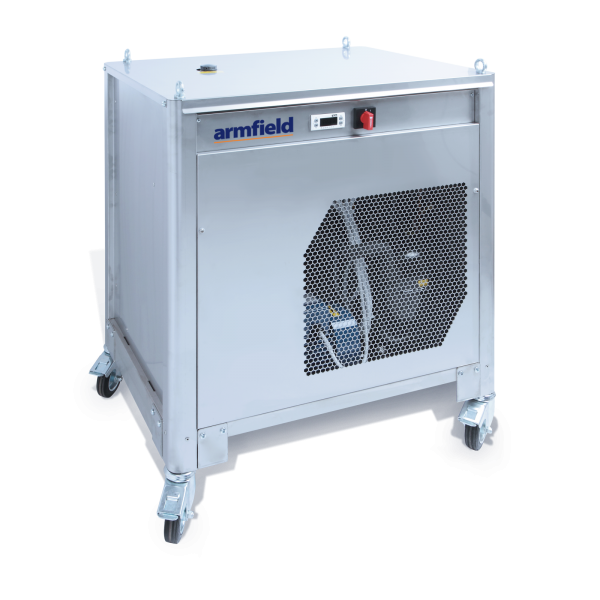 Spray chiller configuration
For spray chilling the flow of air from the inlet fan to the spray chamber is chilled instead of heated. The air is cooled using chilled water and a stainless steel heat exchanger.
The FT81 Tall Form Spray Chiller is supplied complete with its own refrigeration unit. Counter-current configuration is normally used for spray chilling. Note: Many spray-chilling applications also require the Trace Heating Accessory, FT81-65.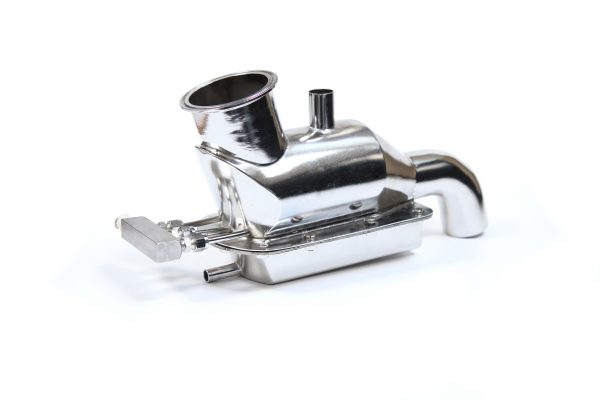 Windows™ Data Logging Systems
A unique benefit of the Armfield miniature-scale food processing range is that the measured data may be captured and stored to disk. An Armfield FT80-DTA-ALITE Data Logging Accessory transfers results to a PC. Temperatures, pressures and relative humidity can be monitored in real-time.
The data can be displayed in graphical and tabular forms and printed. A PC with a USB port, and running Windows XP or later is required.
armSOFT
The armSOFT software enables the operator to select the appropriate stage of the process and a mimic diagram with measured variables is displayed. The speed of the pump can be varied to meet the required flow rate.
Results are saved in a log, which can be viewed and manipulated with the armBUS results viewer. Results can be printed or exported in a spreadsheet format, which can be opened in a wide range of packages for further analysis.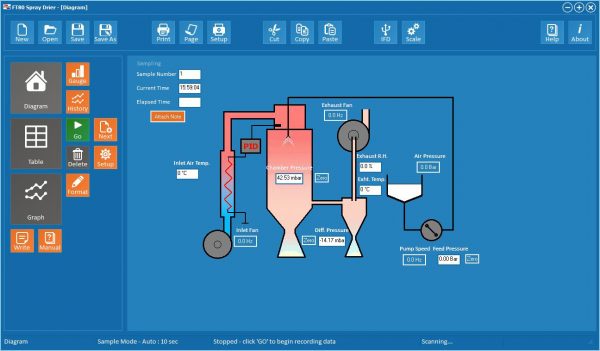 Fluid Bed Cooler Accessory – FT80-60
An optional accessory is available to provide final cooling of the spray-dried powder in a fluidised bed. This feature is particularly useful when drying powders containing fats as the fluid bed helps to crystallise the fat content. Typical applications include infant formulas and whole milk powders.
Bag Filter Accessory – FT80-70, FT81-70
The Bag Filter Accessory is used on the exhaust air outlet. The five micron filter removes virtually all of the remaining product dust in the airstream, resulting in clean air that can be discharged directly into the working area, without requiring further treatment, ducting or extraction fans.
Note: This filter is not designed to extract toxic or hazardous materials.
Trace Heating Accessory – FT81-65
The Trace Heating Accessory is required when the product must be kept above a certain minimum temperature prior to atomisation in the spray nozzle.
It comprises a heater band on the feed vessel, a heater on the pump body and a further heater on each of the spray nozzles. The trace heating controls are enclosed in a separate mains powered stainless steel box, which can be positioned on the main control unit.
Two independent temperature controllers are used for the feed vessel wall temperature and the nozzle body temperature. Although primarily required for spray chilling, this accessory can also be used with the spray dryer. Note: The trace heating is not designed to heat the product, but to maintain the product at an elevated temperature.
Dairy
Liquid Foods
Pharmaceuticals
Nutraceuticals
Flavours & Fragrances
Single-phase electrical supply (see ordering codes)
Compressed air: 1-5 bar pressure, 0.05 m³/min
PC: Optional (if using the optional Data Logging System a PC with a USB port, and running Windows XP or later is required).
Packed and created shipping specifications
Volume: 3.2m³ 4.0m³
Gross weight: 300Kg 450Kg
Model             FT80           FT81
Length:          1.30m          1.30m
Width:            0.62             0.80m (not including FT63 chiller)
Height:           2.0m            2.0m
FT80 Tall Form Spray Dryer
FT80-A: Tall Form Spray Dryer: 220-240V/1ph/50Hz*
FT80-G: Tall Form Spray Dryer: 220-240V/1ph/60Hz*
(* Max 35A)
Optional accessories
FT80-25-A: Spray Chilling Accessory: 220-240V/1ph/50Hz
FT80-25-G: Spray Chilling Accessory: 220-240V/1ph/60Hz
(Containing all items required to convert an FT80 Spray Dryer into an FT81 Spray Chiller) 
FT80-60: Fluid Bed Cooler Accessory
FT80-70: Bag Filter Accessory
FT80-DTA-ALITE: Data Logging System
FT81-65-A: Trace Heating Accessory: 220-240V/1ph/50Hz
FT81-65-G: Trace Heating Accessory: 220-240V/1ph/60Hz FT81
Tall Form Spray Chiller
FT81-A: Tall Form Spray Chiller: 220-240V/1ph/50Hz
FT81-G: Tall Form Spray Chiller: 220-240V/1ph/60Hz Optional accessories u FT81-35: Spray Drying Accessory
(Containing all items required to convert an FT81 Spray Chiller into an FT80 Spray Dryer) 
FT81-70: Bag Filter Accessory
FT81-DTA-ALITE: Data Logging System
FT81-65-A: Trace Heating Accessory: 220-240V/1ph/50Hz
FT81-65-G: Trace Heating Accessory: 220-240V/1ph/60Hz
Optional GMP compliance
The FT80 can be produced to full GMP compliance standards. Contact Armfield for further details