ME Series – Dissectible Pumps & Valves
The Armfield Machine Elements product range has been designed to teach hands-on industrial skills, to prepare students for work in real industrial jobs
Description
Our dissectible maintenance training kits use new industrial pumps and valves that are commonly used in industrial parts.
Armfield Intro to Range:  The Armfield Machine Elements product range has been designed to teach hands-on industrial skills, to prepare students for work in real industrial jobs. From stripping and repairing real industrial pumps, valves and equipment to understanding the construction and operation of heat exchangers. The range allows student to fully understand the function and main components of Universally used machine elements.
ME61 Single-Stage Centrifugal Pump
2"/DN50 Single-Stage Centrifugal Pump
A Brand New Single Stage Centrifugal Pump with DN50 inlet and DN32 outlet for maintenance and repair training.
The set includes a complete toolkit for pump maintenance operations and laminated job worksheets for disassembly, checking, repair and reassembly of a single stage centrifugal pump.
All components are supplied in a foam lined rugged industrial case for easy storage and handling.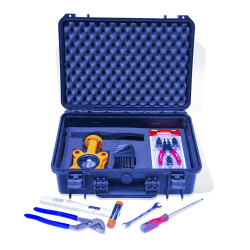 Additional dissectible pumps and valves available in the range
ME62: 2"/DN50 Long Coupled Single- Stage Centrifugal Pump
ME63: 2"/DN50 4 Stage Centrifugal Pump
ME64: 2"/DN50 Internal Gear Pump
ME65: 2"/DN50 External Gear Pump
ME66: 1.5"/DN40 Vane Pump
ME67: 2"/DN50 Multi-Screw Pump
ME68: 2"/DN50 Lobe Pump
ME69: 2"/DN50 Diaphragm Pump
ME70: 2.5"/DN65 Tri-Rotor Rotary Piston Pump
ME81: 2"/DN50 Ball Valve
ME82: 2"/DN50 3-Way Ball Valve
ME83: 2"/DN50 Gate Valve
ME84: 2"/DN50 Globe Valve
ME85: 2"/DN50 Right-Angled Globe Valve
ME86: 2"/DN50 Diaphragm Valve
ME87: 2"/DN50 Butterfly Valve
ME88: 1"/DN25 Needle Valve
ME89: 2"/DN50 2-Port Plug (Cock) Valve
ME90: 2"/DN50 Ball Check Valve
ME91: 2"/DN50 Swing Check Valve
ME92: 2"/DN50 Disc Check Valve
ME93: 2"/DN50 Lift Check Valve
ME94: 2"/DN50 Electrically Actuated Ball Valve
ME95: 2"/DN50 Pneumatically Actuated Ball Valve
ME96: 2"/DN50 Control Valve without Positioner
ME97: 2"/DN50 Control Valve With Smart Positioner
ME98: 2"/DN50 Dissectible 3-Way Control Valve
ME99: 2"/DN50 Solenoid Valve
ME100: 2"/DN50 Pressure Reducing Valve
ME101: 2"/DN50 Spring Safety Relief Valve
Technical Specifications
Features & Benefits
Additional dissectible pumps and valves available in the range
ME61: 2"/DN50 Single-Stage Centrifugal Pump
ME62: 2"/DN50 Long Coupled Single- Stage Centrifugal Pump
ME63: 2"/DN50 4 Stage Centrifugal Pump
ME64: 2"/DN50 Internal Gear Pump
ME65: 2"/DN50 External Gear Pump
ME66: 1.5"/DN40 Vane Pump
ME67: 2"/DN50 Multi-Screw Pump
ME68: 2"/DN50 Lobe Pump
ME69: 2"/DN50 Diaphragm Pump
ME70: 2.5"/DN65 Tri-Rotor Rotary Piston Pump
ME81: 2"/DN50 Ball Valve
ME82: 2"/DN50 3-Way Ball Valve
ME83: 2"/DN50 Gate Valve
ME84: 2"/DN50 Globe Valve
ME85: 2"/DN50 Right-Angled Globe Valve
ME86: 2"/DN50 Diaphragm Valve
ME87: 2"/DN50 Butterfly Valve
ME88: 1"/DN25 Needle Valve
ME89: 2"/DN50 2-Port Plug (Cock) Valve
ME90: 2"/DN50 Ball Check Valve
ME91: 2"/DN50 Swing Check Valve
ME92: 2"/DN50 Disc Check Valve
ME93: 2"/DN50 Lift Check Valve
ME94: 2"/DN50 Electrically Actuated Ball Valve
ME95: 2"/DN50 Pneumatically Actuated Ball Valve
ME96: 2"/DN50 Control Valve without Positioner
ME97: 2"/DN50 Control Valve With Smart Positioner
ME98: 2"/DN50 Dissectible 3-Way Control Valve
ME99: 2"/DN50 Solenoid Valve
ME100: 2"/DN50 Pressure Reducing Valve
ME101: 2"/DN50 Spring Safety Relief Valve