FT94X HTST/UHT Mini Pilot System
The Armfield FT94X HTST/UHT Mini Pilot System extends the range of continuous operation scaled-down units offered by Armfield to 200 l/hr (30-100 l/hr for the standard FT94X). The unit combines full flexibility with comprehensive instrumentation demanded of research and development equipment.
The FT94X is designed for operation as both a stand-alone unit and also for seamless integration into a full processing system with the capability of aseptic packaging of processed product.
Description
The FT94X service unit contains the services, controls and instrumentation required to operate the tubular and plate heat exchangers described below. The FT94X may be specified with either or both of the heat exchangers. Switching between the two heat exchangers takes a matter of seconds.
The service unit comprises: an eight inch touch screen control panel with the required controls and displays; a variable speed progressive cavity product feed pump with inlet level sensor and alarm to warn of low product level; a steam-heated hot water system for product preheating; automatic steam control valves for product preheating and final heating; a centrifugal CIP pump and other facilities required for CIP and SIP.
Sensors show product inlet, preheat, final heating and outlet temperatures. Product preheat and final heating temperatures are set by the operator. Inlet and outlet product pressure is also shown. There are various service sensors: pressure, level and temperature – see process flow diagram for details.
A sophisticated data logging package enables the measured data to be recorded onto a standard Windows PC (not supplied). The software records all temperatures, product and steam pressures, feed pump speed and many other sensor values. Data from optional accessories (e.g. the flowmeter) is also recorded. Data may be displayed in tables and graphs (both real time and comparisons across previous runs), and may also be exported to MS Excel.
Interface: USB Software requirements: Win 98, ME, 2000, XP, Win 7/8/10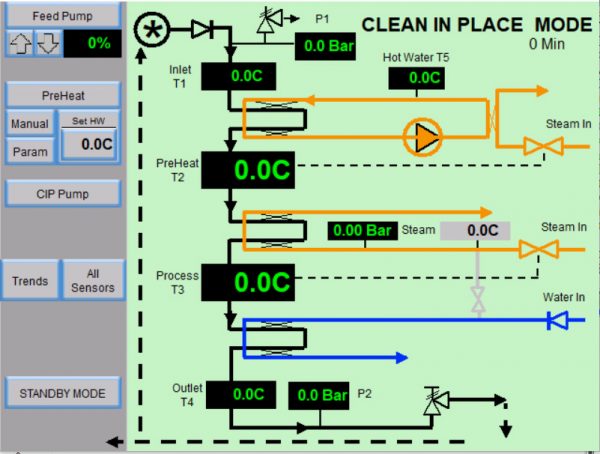 In addition FT94-59 Ethernet PLC update module is available. This accessory gives a direct link from a PC to update the software on the PLC using Dataworx™ Software (not provided).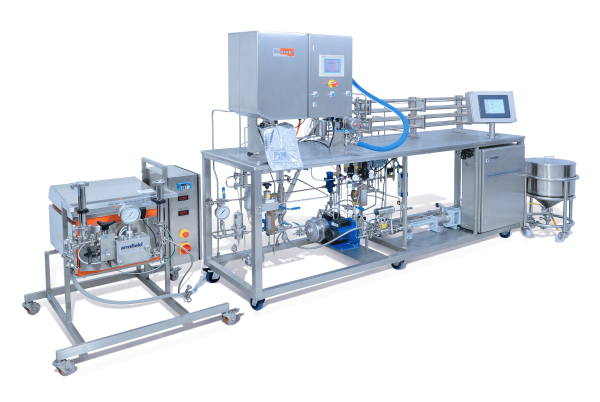 Technical Specifications
FT94X Service Unit Technical specifications           Tubular Heat Exchanger (FT94-20)
Feed pump                                                                   Number of tubes 10 (2 preheat, 4 heating, 4 cooling)
Progressive cavity variable speed pump                  Tube diameter
Solids handling:        Soft 10 mm                                (product side):      8.1 mm
Hard 4 mm                                                                    Overall diameter:              22.0 mm
Flow rate:                   30-100 l/hr                                 Length (heated):               1.46 m
Discharge pressure:  24 bar (max)                             Product volume:               1.0 l
Pre-heat water system                                                Material:                             316 stainless steel
Water capacity:         ~2-3 litres                                   Assembled test pressure: 30 bar
Maximum temp:        110°C                                         Working pressure:             24 bar (maximum)
Safety cut-outs:         Low level                                   Plate Heat Exchanger (FT94-30)
Temperature                                                                  Plate overall dimensions: 150 x 480mm
Product pump                                                                Effective area per plate:    0.04m²
Pressure relief valve                                                      Plate thickness:                 0.6mm
Heating system                                                            Product volume:                2.5litres
External steam supply                                                Materials, Plates                316 stainless steel
Maximum temp:      165°C                                           Gaskets:                             Food grade Viton
Relief valve (7 barg)                                                      Max differential test pressure: 11.5bar
Product pump off                                                           Max balanced test pressure:     12.5bar
steam valve closes                                                        Max working pressure:               9.6bar
Max product heating duty: 1/ kW                               Working temperature Max: 1/0°C
(preheat + heating)                                                        Min: -4°C
Number of plates
FT94-30 Preheating 13, Heating 6, Cooling 13
FT94-33 Secondary cooling 7
Features & Benefits
Compact design and easy installation
Low product hold up
Suitable for producing large batches of material for extensive product testing
Suitable for a wide range of products due to both plate and tubular exchangers
From cold start to steady state operation in seconds
Rapid switchover from one heat exchanger to another
Designed for easy integration into a process line
Links directly to sterile filling bench or sealed bag filling systems
Touch screen control for ease of use
Compact, mobile, easy to install
Continuous and batch operation
Standard throughputs from 30 to >100 l/hr (dependent on conditions)
Units available to 200 l/hr
Process temperatures up to 150°C
Capable of aseptic operation
Fully instrumented
Preheating by hot water (indirect)
Heating by steam (indirect)
Plate and tubular heat exchanger options
Controlled product preheat and heating temperatures
Simple and rapid switch over between heat exchangers
Automatic product divert for low temperature on tubular heat exchanger
Built in Clean In Place (CIP) and Sterilisation In Place (SIP) facilities
Integral USB data logging
Two-stage cooling option
Electronic flowmeter option
Suction feed with in-line level sensor
Baby foods
Beer
Condiments
Confectionery
Culture media
Desserts and puddings
Fruit and vegetable purees
Health and nutritional products
Fruit juices and cordials
Gelatine products
Gravies
Cream
Ice cream
Sauces and soups
Yoghurts
Meat pie fillings
Milk
Pet food
Pharmaceuticals
Ready meals
Tubular Heat Exchanger
The FT94-20 is a standard tubular heat exchanger design using a series of concentric 316 stainless steel tubes for product preheating, final heating and cooling. In all cases the product passes down the inner tube and the heating/cooling medium passes through the annulus.
Two heating tubes of 1.5 m length are used to preheat the product. Four similar tubes are used for product heating and an additional four tubes are used for product cooling.
Product is gently preheated using a hot water system, which is itself heated by steam via a secondary service heat exchanger. In the main heating section the product is indirectly heated using steam itself. Product is cooled normally using water or chilled water. The cooling section can be configured to enable two stages where the first stage is water/chilled water and the second stage is water/glycol.
The FT94-21 is a set of static mixers for two tubes. These significantly improve heat transfer with more viscous products and can be used for improving both heating and cooling efficiency. Multiple sets can be used to optimise both heating and cooling performance.
The FT94-22 product divert option enables product that has not been processed to a sufficiently high temperature to be diverted to drain thus ensuring product quality and heat treatment. The divert temperature is adjustable. Diversion is achieved using a low hold-up twin diaphragm valve block operated by compressed air and PLC controlled. Diverted product is cooled in a tubular heat exchanger before being led to drain.
The FT94-20 has a one second holding tube (at 50 l/hr) as standard. Contact Armfield for longer holding times.
Plate Heat Exchanger
The FT94-30 uses the sanitary heat exchanger employing the latest plate design for efficient heat transfer. Performance scale-up is straight forward. The standard unit is a three stage system with preheat (hot water) final heating (steam) and cooling (water/chilled water). The plates have a complex pressed profile to maximise turbulence and minimise dead zones. There is a relatively large gap between plates to enable handling of more viscous products. The plates are fitted with food grade Viton paraclip gaskets for easy replacement as these are simply clipped in place rather than glued. A number of options are available to enhance the performance of the standard plate heat exchanger. These options involve additional plate configurations, which can be supplied and fitted or may be easily retro-fitted by the user.
The FT94-32 homogeniser interconnecting plate enables the homogeniser to be connected downstream of the heating section. The plate is fitted into the cooling section.
The FT94-33 two-stage cooling option provides a complete additional cooling stage, which can be used in conjunction with a chilled water/glycol supply for the best possible product cooling. Output temperatures below 5°C are possible depending on the product and the flow rate. An interconnecting link is provided so that the two stages can be operated as a single stage when required.
The FT94-30 has a five second holding tube (at 50 l/hr) as standard. Contact Armfield for longer holding times.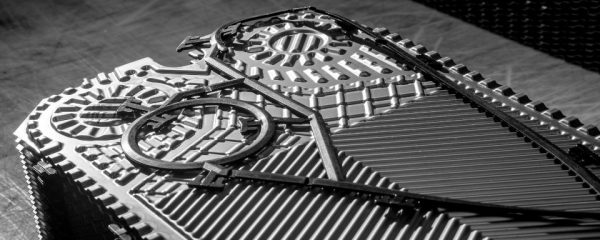 (FT94-33) Two Stage Cooling optioN
FT94-33 Two stage cooling option for use with FT94-30 (PHE) to give much increased cooling capacity
Flow meter option (FT94-40)
Type: Electromagnetic
Flow range: 30-100 l/hr
Accuracy: <1% error at 50 l/hr
Suction Feed
Suction feed with in-line float switch standard on the FT94X
Feed Vessel (FT94-51)
The FT94-51 Feed Vessel option, is a 50 litre stainless steel vessel with lid, fitted with a product outlet valve and a dr
ain (or recirculation) valve. The assembly is mounted on castors for ease of movement.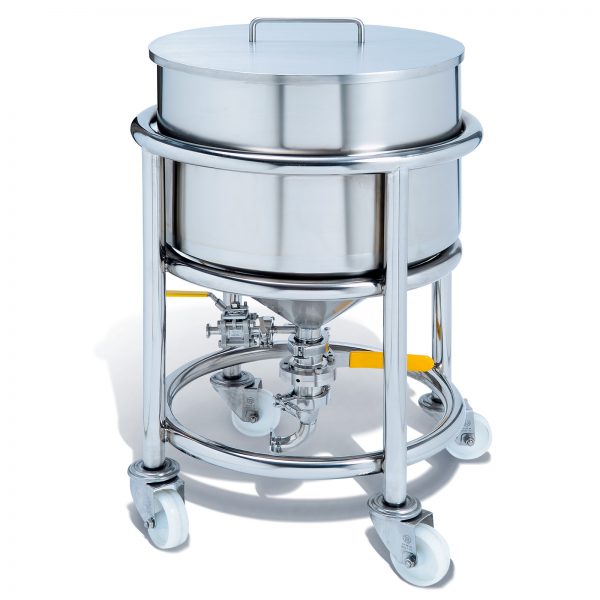 (FT94-59) Ethernet PLC Update Module
Comprising of a single port (RJ45) 10/100 ethernet connection module directly connected to the PLC. This module enables remote connection to the PLC for maintaining the most up to date software.
(FT94-87) Sterilisation Link Accessory
FT94-87 – Sterilisation Link Accessory: this option links the FT94X to a product storage tank. It enables pressurised hot water sterilisation of the FT94X and steam sterilisation of the product vessel so that the full system undergoes a monitored SIP procedure prior to sterile product filling to the vessel. There is a divert system so that interface material can be led to drain prior to switching to vessel filling.
FT83-94 Sterile Filler
The FT83-94 enables sterile product produced by the FT94X to be packaged into pre-sterilised containers in a sterile environment – see separate data sheet
The FT94X contains all the necessary functionality to sterilise the FT83-94
The FT94 can also be interfaced directly to a sterile sealed bag filling system. Contact Armfield for details.
Homogeniser subsystems
Contact Armfield for details of the in-line Homogenisers for use with the FT94X.
Electricity supply: Single phase (see ordering codes)
Steam supply: Heat output of 30kW (min 6.0 bar) – heating medium
Compressed air: 7 l/s (min 7.0 bar, max 10.0 bar) – valve operation
Cooling water: 10 l/min at 2 bar – product cooling
Chilled water: Required if two-stage cooling option is specified
Packed and crated shipping specifications
Volume: 5.0m3
Gross weight: 708K
Length: 2.02m
Width: 0.70m
Height: 1.55m (Fitted with FT94-20)
FT94-A: 220-240V/1ph/50Hz (10 A)
FT94-G: 220V/1ph/60Hz (10 A)