FT43 Laboratory Pasteuriser
Description
This self-contained laboratory unit is suitable for HTST (high temperature, short time) pasteurisation of up to 20 litres/hour of a wide variety of low-viscosity liquid foods. Products that may be pasteurised include raw milk, nectars, fruit juices, skimmed milk, ice-cream mix, soft drinks, pharmaceuticals and margarine emulsion.
A CIP (clean-in-place) facility is incorporated which allows disinfection, pre-rinsing, detergent washing and final rinsing. The ability to vary process conditions has been built into the unit in the form of the following features:
Variable speed, peristaltic, hygienic feed pump allowing flow rate variations
Plate-type stainless steel heat exchanger – the cooling, regenerating and heating sections, mounted on a common frame work, are easily dismantled to allow re-configuration and inspection of the heat transfer surfaces
Electrically heated hot water circulating system for both pasteurisation and CIP cycles – any required holding tube outlet temperature is set on the indicating microprocessor-based power output controller of the water heater
Stainless steel holding tube, allowing holding times between five seconds and two minutes
Flow rates of feed pump, cooling water and hot water are monitored accurately
Temperatures in the system are monitored with thermocouple sensors at each of six chosen locations (nine available)
Maximum process temperature 85°C
Technical Specifications
Optional 15-second holding tube included in supply
Features & Benefits
Benefits
Tests can be carried out quickly and easily
Simulates the conditions used in a production plant
Small quantities of liquid product can be processed
Features
Miniature plate heat exchanger
Fully self-contained design with integral hot water system
Choice of holding tubes
Variable product temperature and holding time
Control console incorporating comprehensive instrumentation
CIP facility benchtop operation
Instrumentation
Individual conditioning for each temperature sensor
Digital display unit with 6-way selector switch for temperature indication
Display resolution ±0.1°C, accuracy ±1°C
Data logging outputs: 6-channel analogue output 0-1V proportional to temperature
Output port (on/off switch) for monitoring 3-way diverter-valve operation
After an initial disinfecting process, the raw liquid is placed in the feed tank [5] and pumped [4] to the regenerative section [2] of the heat exchanger. The liquid passes to the heating section [3] to be brought up to pasteurising temperature. Any product not at the required temperature after passing through the holding tube [6] is diverted back to the feed tank by a diverting valve [7] through the action of the temperature controller [10].
Heating is accomplished using water at a high flow rate only 5-6°C hotter than the pasteurising closed-circuit system [8] also controlled by temperature controller [10].
The product then passes back through the regenerator [2] and the cooler [1] to storage. (The final cooler [1] has been designed to achieve product temperatures below 10°C provided a chilled water unit is available in the laboratory.)
The regenerator is capable of achieving a high degree of heat recovery by using the surplus heat from the outgoing hot pasteurised liquid to preheat the cold liquid feed.
FT43-DTA-ALITE Data Logging Accessory
This accessory allows the six temperature sensor outputs to be logged on a PC. The package includes all hardware, software and connecting leads required (excluding the PC itself).
The software is compatible with Windows operating systems and provides a user-friendly operator interface with a flexible range of logging and display options. The logged data can be stored and subsequently analysed by most general purpose spreadsheets.
The software requires a PC (not supplied by Armfield), running Windows 98 or above, with a USB port.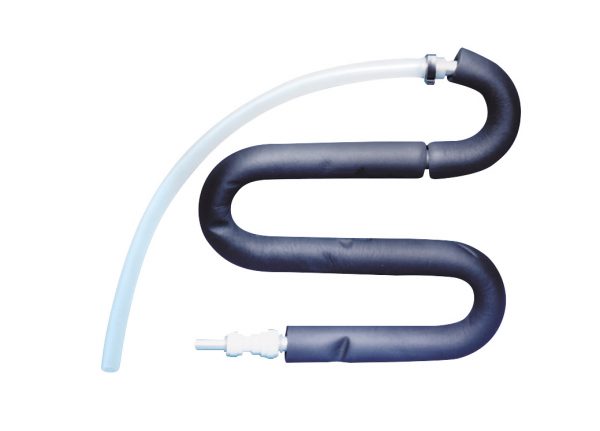 Self-contained, bench-mounted HTST pasteuriser of up to 20 l/hr capacity. CIP facility included. Main components made of stainless steel
Special features:
Pump: hygienic design peristaltic type with variable-speed drive, maximum capacity 100 l/hr (for CIP)
Pipe fittings: stainless steel and food quality silicone tubing
Hot water system: 1.5kW immersion type heater, self-filling water tank
Hot water pump: magnetic-coupled circulator. Maximum pressure 0.15 bar, capacity 3 l/min
Diverter valve: stainless steel, 3-way solenoid type
Pasteurisation temperature controller: microprocessor-based controller, providing time-proportioned PID action to the heater, range 0-100°C, accuracy of indication ±0.5°C
Temperature measurement: 6 sheathed sensors, for use in 9 possible measurement points
Process temperatures up to 85 °C
A user instruction manual provides installation, commissioning and maintenance data, together with project exercises
Electrical supply
FT43A-A: 220-240V/1ph/50Hz/13 amp
FT43A-G: 220-240V/1ph/60Hz/13 amp
Water: A supply of cold tap water is required for the cooling section. If a chilled product is required this can be achieved with a chilled water supply or by performing final chilling in a refrigerator.
FT43A Pasteuriser
Height: 0.70m
Width: 0.80m
Depth: 0.60m
Control console
Height: 0.20m
Width: 0.35m
Depth: 0.30m
FT43A with console
Volume: 1.0m³
Gross weight: 145kg
FT43-DTA-ALITE
Volume: 0.02m³
Gross weight: 4kg
FT43A-A: 220-240V/1ph/50Hz/13 amp
FT43A-G: 220-240V/1ph/60Hz/13 amp